Meet Fernleaf's New CEO: Matt Hutchins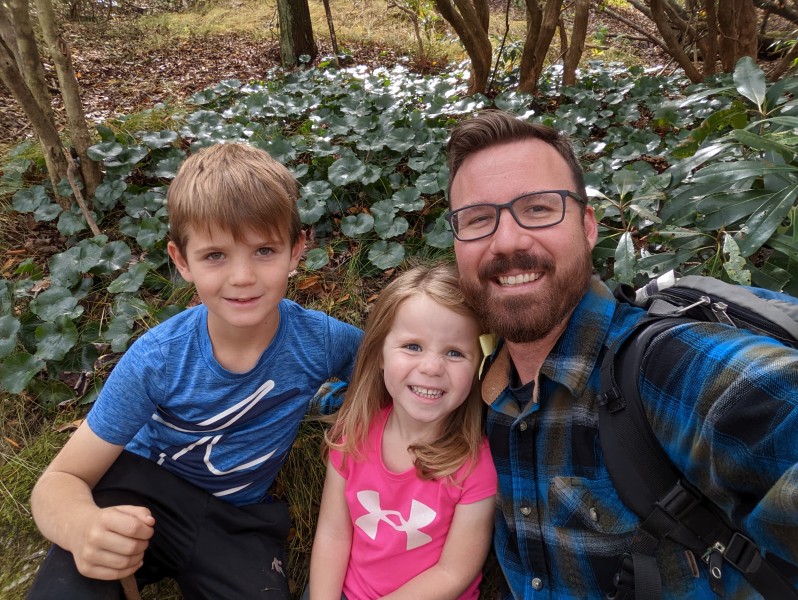 Posted February 1st, 2023
Matt has over 12 years of experience supporting groups and communities in planning and making informed decisions on climate resilience and adaptation strategies. Matt became CEO at Fernleaf in 2022 and before that led the Resilience Services team at Fernleaf for four years. Matt specializes in climate vulnerability and risk assessments and has provided climate resilience decision support services and tools to dozens of communities across the U.S. This includes using NOAA's Steps to Resilience framework and Fernleaf's custom decision support platform to support municipal planning.
Tell us about your background, how did you get into the climate resilience industry?
I went to school at UNC Asheville for my bachelor's in environmental studies. After graduating I worked at UNC Asheville's National Modeling and Analysis Center (NEMAC) which provided me with an applied understanding of decision making needs around climate change and environmental issues.
I then returned to UNC Asheville to get my masters in climate change in society while still working at NEMAC. I started to understand the need for multidisciplinary perspectives when thinking about systemic issues in our society. So, my master's program in climate change in society gave me the opportunity to apply a lot of the concepts I was learning through NEMAC's applied research program.
I then joined Fernleaf in 2019. As a spin-off from NEMAC, Fernleaf was a natural fit for me to further apply and advance a lot of what I learned at NEMAC and in my graduate studies into the private sector, to work more directly with communities on resilience planning, and with other partners in continual improvement on the process for informed decision-making around climate issues.
Since joining Fernleaf in 2019, what are a few of your most memorable projects?
One is working locally here in the Asheville area with the Land of Sky Regional Council who are long-term partners of Fernleaf through the development of a 5-County Regional Resilience Assessment. We have worked with Land of Sky since 2019 and our work with them is especially memorable due to the unique regional approach that Land of Sky is leading to support more than 26 jurisdictions with assessment resources and tools. As partners they have also provided invaluable understanding of user experience on our AccelAdapt platform and how it can best address needs jurisdictions have in the region.
Another is working with the City of Charleston, SC where I served as project manager for the All Hazards Vulnerability Assessment that was completed in 2020. It was one of the first projects I worked on after joining Fernleaf and was memorable as a project where as a team we had the opportunity to lead the development of the assessment and strategy prioritization. We also had an opportunity to work with an incredible City staff that continues to integrate the vulnerability assessment into multiple municipal planning efforts.
What is one of the biggest lessons you have learned in your career?
Good question. I think one of the biggest lessons I've learned while working in the space of climate resilience planning, in an emerging industry, and in the private sector is the importance of truly listening and seeking to understand and learn about the needs of our clients and the communities we work with.
The unique part of our industry is the ultimate impact that the work has on communities. So, it is important to be looking for opportunities and ways of understanding the experiences that communities have, and understanding our role in listening to the concerns and issues they face. Because it is easy to make assumptions or to jump to solutions, especially in an emerging industry.
As Fernleaf's new CEO, what do you hope to accomplish this year?
Well, Fernleaf is in a company building phase, meaning we've tested a lot of assumptions on what end-users of our work value and we've worked in a variety of modes on different issues. We also continue to keep an eye on continual learning and improvement. I'm mostly really excited about this year because we have such an incredible team and I'm excited to be supporting them as best I can.
I'm also looking forward to expanding the types of partnerships we have at Fernleaf and to continue investing in our current partnerships, because it really takes a diversity of perspectives and partnerships to meet the needs of communities in our industry and with a changing climate.
What is something that you are passionate about, outside of work?
Outside of work, I am passionate about spending time with my family. My kids are almost five and eight, which is a really exciting time for them because they are beginning to discover new interests. Before winter, my wife and I started hiking with the kids. Once spring hits, we are looking forward to exploring new areas in the National forests around Asheville.