Steps to Resilience Training Recap: Assessing Vulnerability and Risk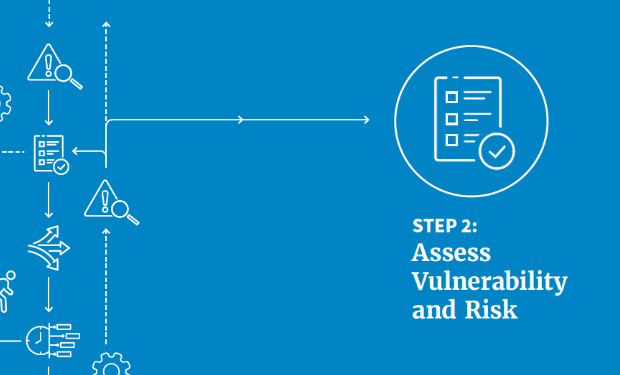 Session 3, Step 2, Accessing Vulnerability and Risk
---
During the third session of the Steps to Resilience training program, practitioners were taught specific elements of an actionable vulnerability and risk assessment. To provide a more in depth peer to peer learning experience, our team of facilitators led practitioners through how to consider components that make up vulnerability and risk, such as sensitivity, adaptive capacity, and probability.
Each group completed this guided exercise using key hazards they identified and information they have learned about the community they have chosen to work on for this program.
Using a similar process, participants were asked to complete a list of these considerations for an additional hazard and develop an impact statement to be used in the upcoming session.
An impact statement is developed by understanding causes of vulnerability and risk, as well as unveiling any root causes of social vulnerability that exist. These short, narrative statements summarize the hazard and impact and help pinpoint people and resources that are most vulnerable and at risk from climate-related hazards.

Page 35, Practitioner's Guide to the Steps to Resilience
The main topics covered in the previous session, which covered Step 2 of the framework, include:
Defining the concepts of vulnerability and risk
How to approach the development of rulesets that help understand drivers of vulnerability and risk
How this information is applied at multiple scales
Continuing to develop an understanding that pre-existing stressors lead to disproportionate impacts and may be exacerbated by climate change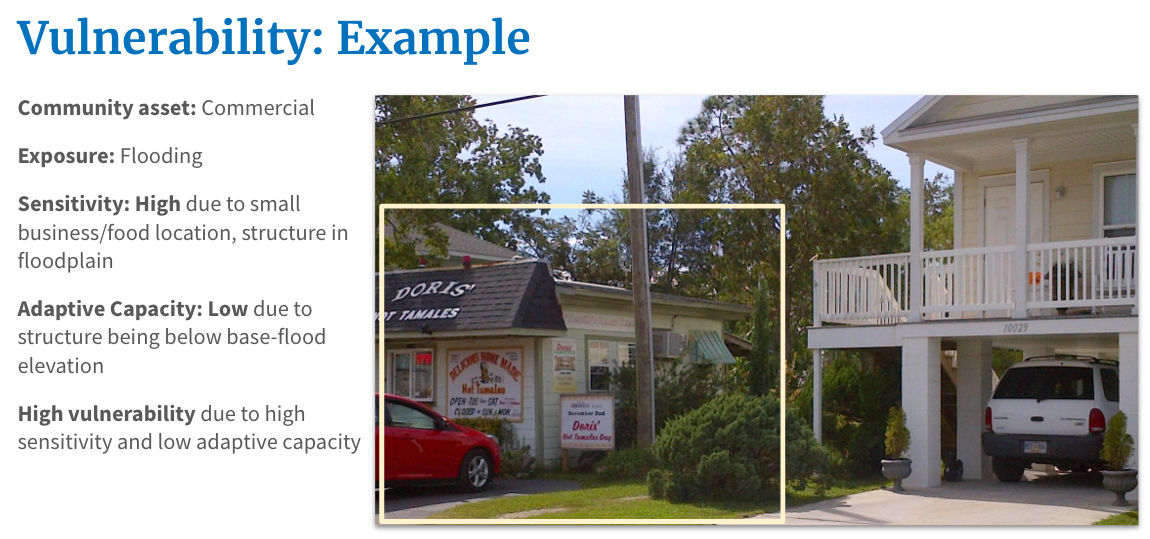 This example was used during the session to highlight components of vulnerability and risk as they relate to the built environment.
After a summary presentation about these concepts, participants were paired into groups to discuss factors that go into vulnerability and risk ("rulesets") for a particular hazard. This includes what characteristics would make something more or less sensitive to a hazard, or what characteristics would cause more or less ability to cope with or respond to a hazard. Each group did a deep dive into one of the following hazards:
Wildfire/drought
Precipitation-based flooding
Coastal flooding
Extreme heat
Session 4: Step 3, Investigate Options
---
The goal of each session is to understand where we've been and where we're going. Concepts that were taught to and used by participants should be utilized throughout each step to tie the framework together.
The upcoming session focuses on guiding participants on how to leverage the concepts learned in the previous session to explore and identify options. The hazards that participants explored and developed rulesets for in the previous session will be used to develop objectives and strategies and then consider what actions could address potential drivers of vulnerability and risk.
Participants will gain an understanding of different types of actions and how a diverse set of actions can be used to holistically target building resilience.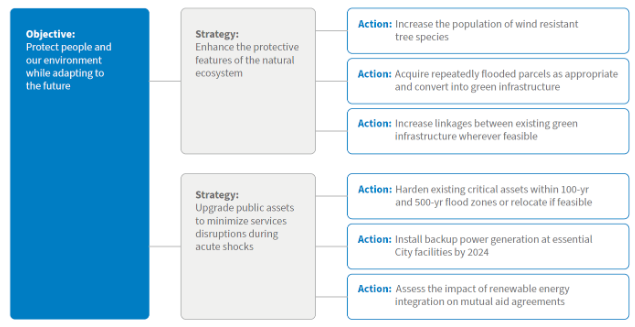 Key questions that participants should ask and be able to answer after this session are:
1. Are your options focused on the central challenges (goals and objectives) that your community faces?
2. With limited resources, what can you do now? For example, what is the current cost for implementation and ongoing operation/maintenance?
3. Will the solutions be effective at building resilience by….
4. Reducing exposure?
5. Reducing sensitivity
6. Increasing adaptive capacity?
7. Supporting better response and recovery?
Learn more about the first session and our team's co-facilitation of this series of trainings here.
Updates on the training program can be found on the Resilience Ecosystem Website..