Steps to Resilience Training Recap: Prioritize and Plan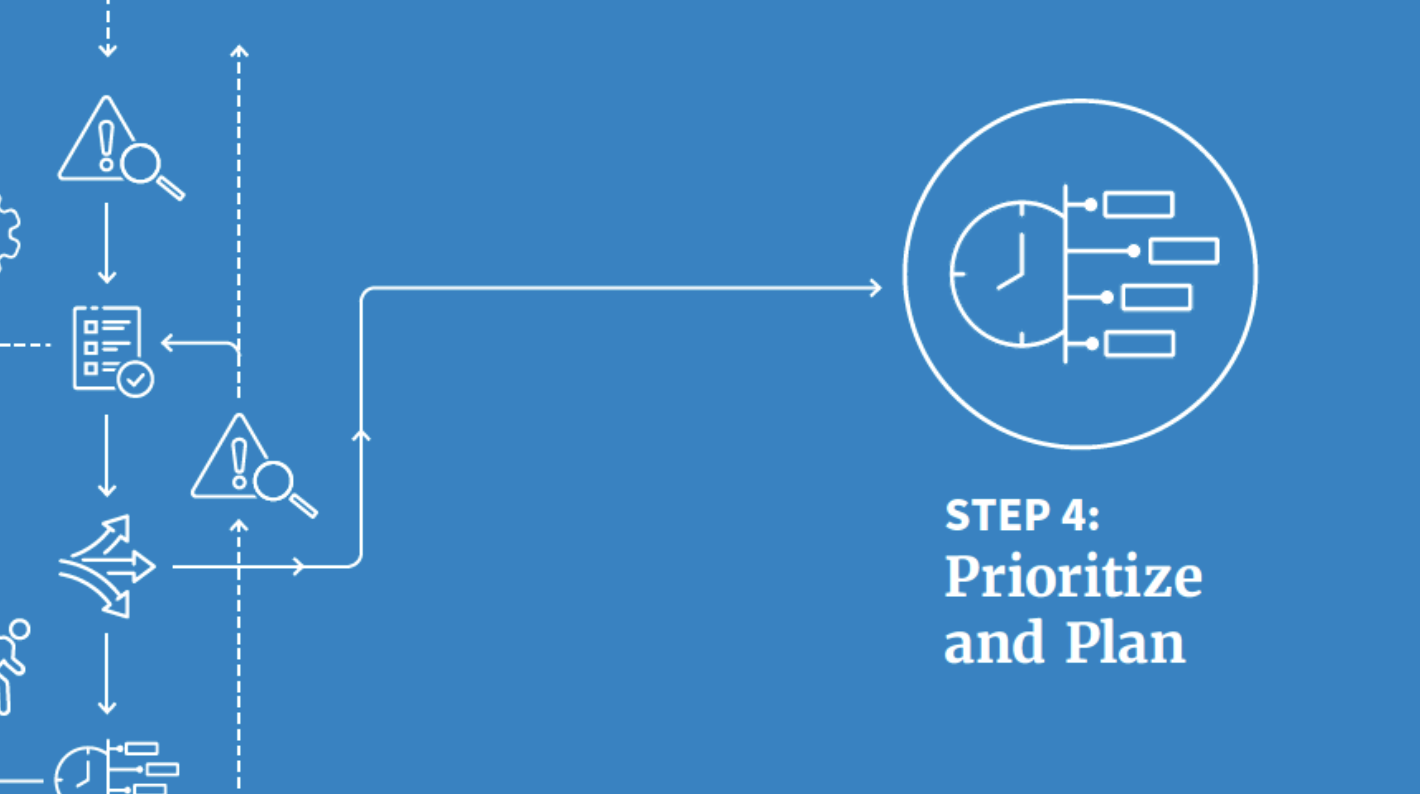 Session 5: Step 4, Prioritize and Plan
---
Step 4 of the Steps to Resilience Practitioner's Guide discusses the importance of designing an implementation plan that both reduces vulnerability and risk and prioritizes achievable actions identified by the community. Planning efforts must aim to eliminate unintended consequences and find cost savings, while also protecting valued assets rather than just one.
In session 5 of the pilot training program, participants explored tools for assessing project feasibility, particularly those that remove barriers to implementation.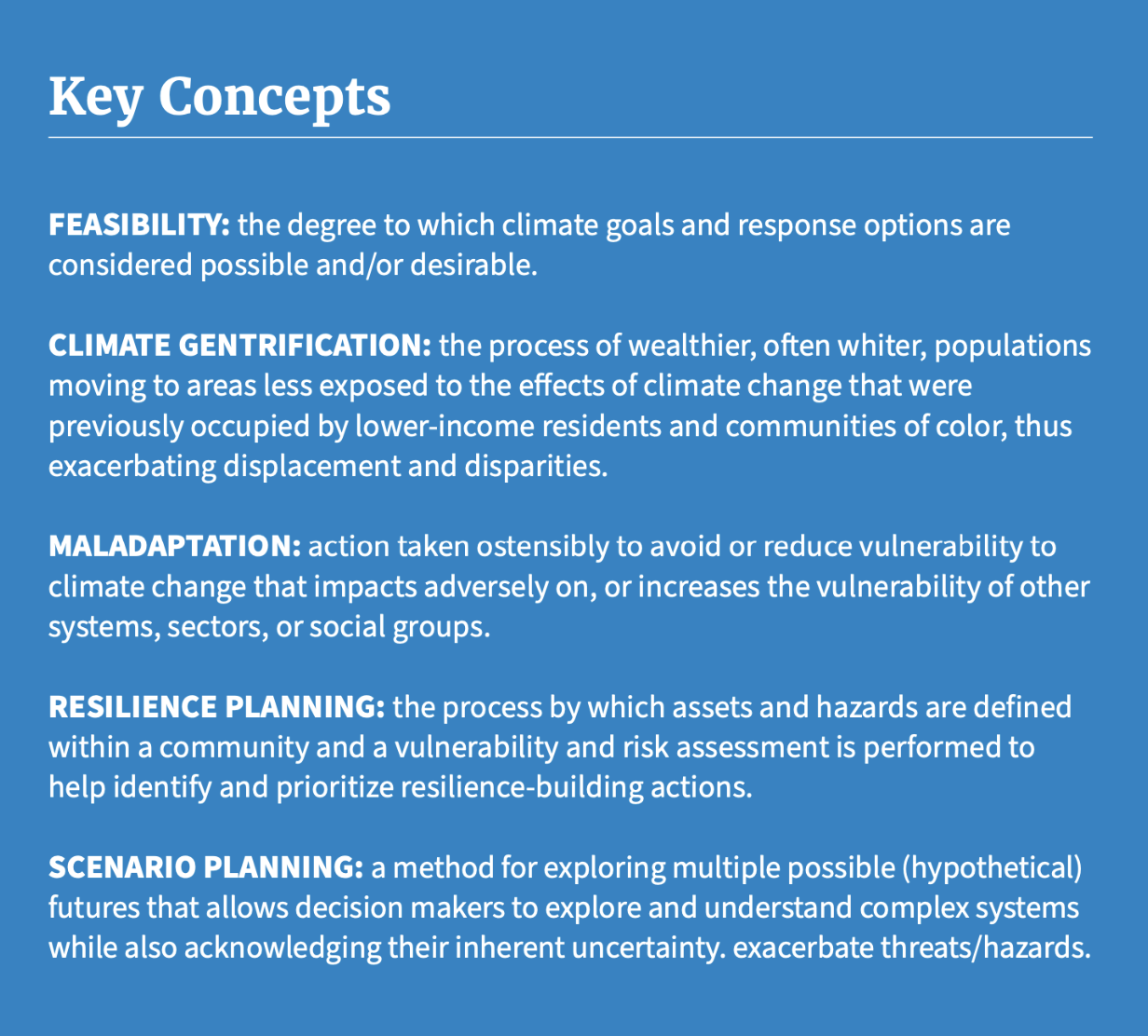 Page 85, Practitioner's Guide to the Steps to Resilience
Learning Objectives
---
Delineate achievable actions that address the highest priorities identified so far and gain the support of community stakeholders through prioritization.
Find synergy and cost savings within the resilience plan while avoiding unintended consequences through planning.
Assess project feasibility and remove barriers to implementation using tools provided in this chapter.
Increase efficiency by protecting multiple valuable assets simultaneously instead of one asset at a time.
Reduce risk across different areas of importance by sequencing actions.
Session 5 featured two heavily facilitated small group breakout sessions that built on one another, as well as the homework completed by groups after Session 4. The goal of the first breakout session was to discuss how to consider and develop categories for prioritization.
The second breakout session then used the categories for prioritization to evaluate the actions identified by each group during their homework exercise. Examples of categories for prioritization are political will, public buy-in, and equitable outcomes, among others. To evaluate, each group considered whether there would be no impediment, some impediment, or strong impediment for each category and action or strategy.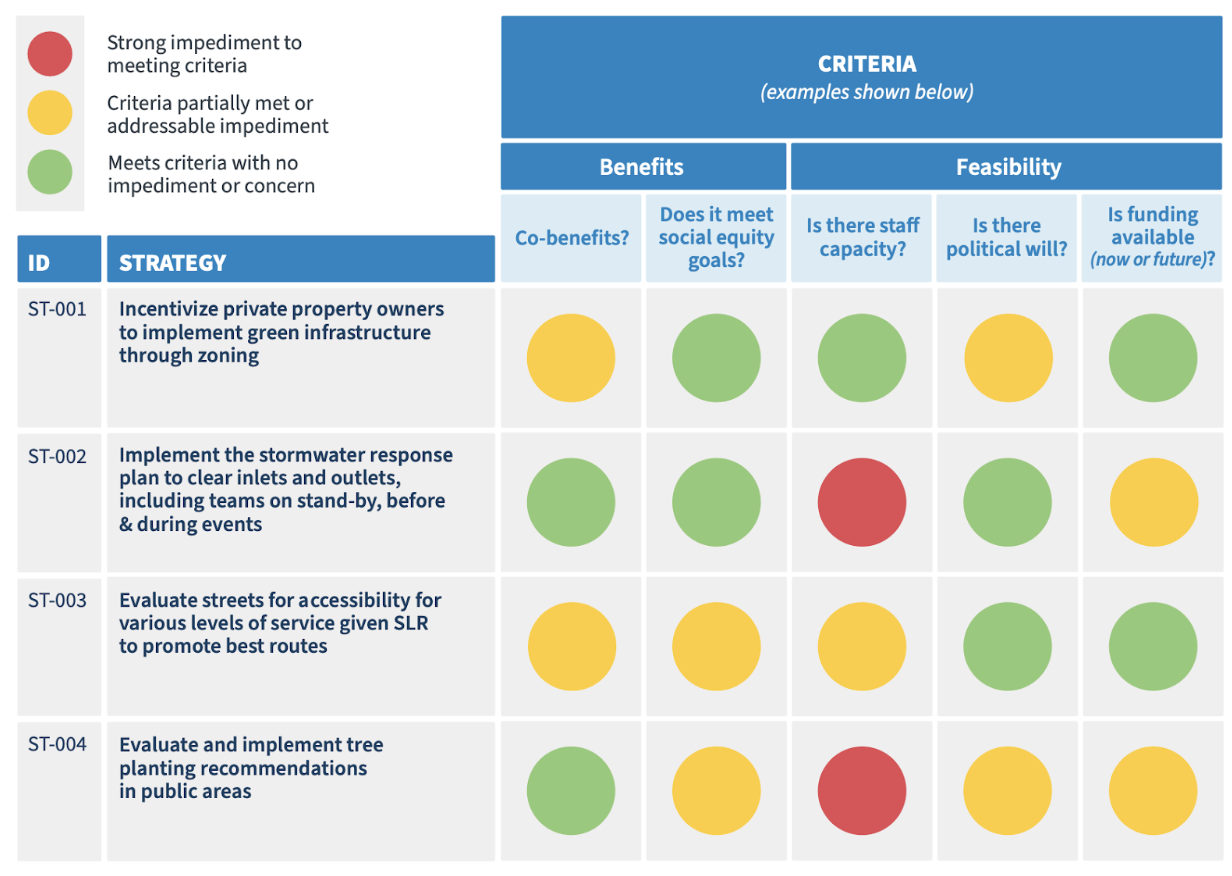 In addition to these evaluation methods, the session also covered the application of more traditional methods of evaluation, such as benefit-cost analysis (BCA), and some of the limitations of those approaches.
To consider and address uncertainty in planning, the session also featured a discussion around the concept of Decision Making under Deep Uncertainty (DMDU). Uncertainty is the inadequacy of knowledge related to the decision being made and deep uncertainty is related to issues beyond our control, to our community and its values, and where analysts do not know or cannot agree on models, probability distributions, and/or the value of alternative outcomes. Tools that can be used to navigate DMDU are scenario planning and adaptation pathways.
Scenario planning is not a prediction, but rather a method for learning about the future and is linked to a specific problem. This tool can be used to navigate DMDU by exploring different future conditions (scenarios), especially those that expose tipping points, and their outcomes. To gain a deeper understanding of potential consequences, it is important to explore additional or alternative scenarios that prioritize different actions and strategies. When examining these scenarios, it is important to consider which actions and strategies work best in each scenario. Actions and strategies that show up in multiple scenarios are more robust.
Adaptation pathways is another tool that provides a framework for robust options that adjust over time, and are therefore able to handle uncertainties. Tipping points in this tool focus on how much change your community and plans can accept. The image below is an example of a typical adaptation pathways chart: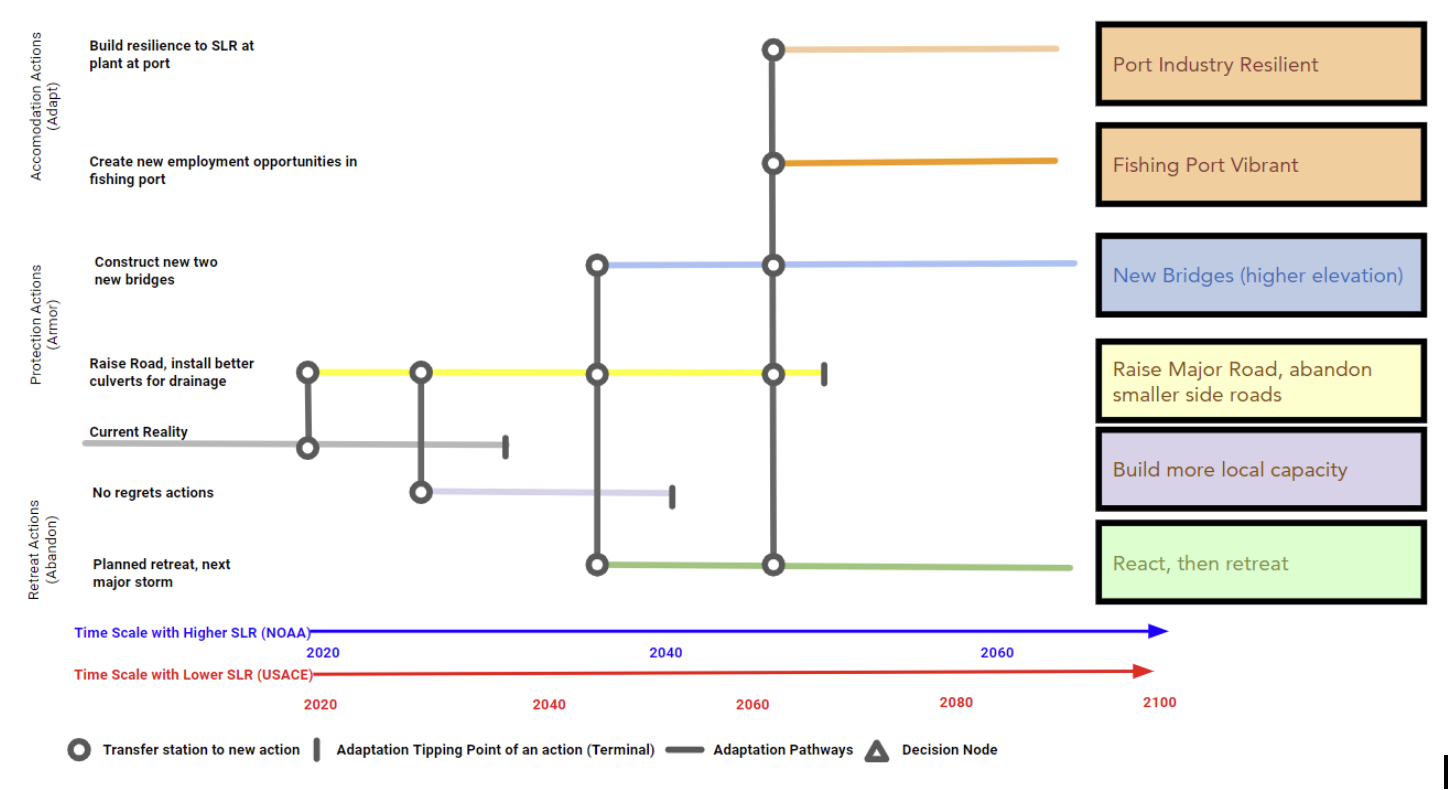 Funding and Finance
---
An important part of planning and prioritization can be identifying funding and finance opportunities. The Climate Resilience Fund Coordination and Collaboration in the Resilience Ecosystem (CCRE) grantee team of Climate Resilience Consulting and the American Society for Adaptation Professionals spent an hour with participants during this session. The team led participants through breakout exercises and a large group activity and discussion that centered on equity in climate resilience funding and finance and considering characteristics of different types of communities seeking climate resilience funding and finance. Below is one of the resulting Jamboards from this exercise, focused on Rural communities: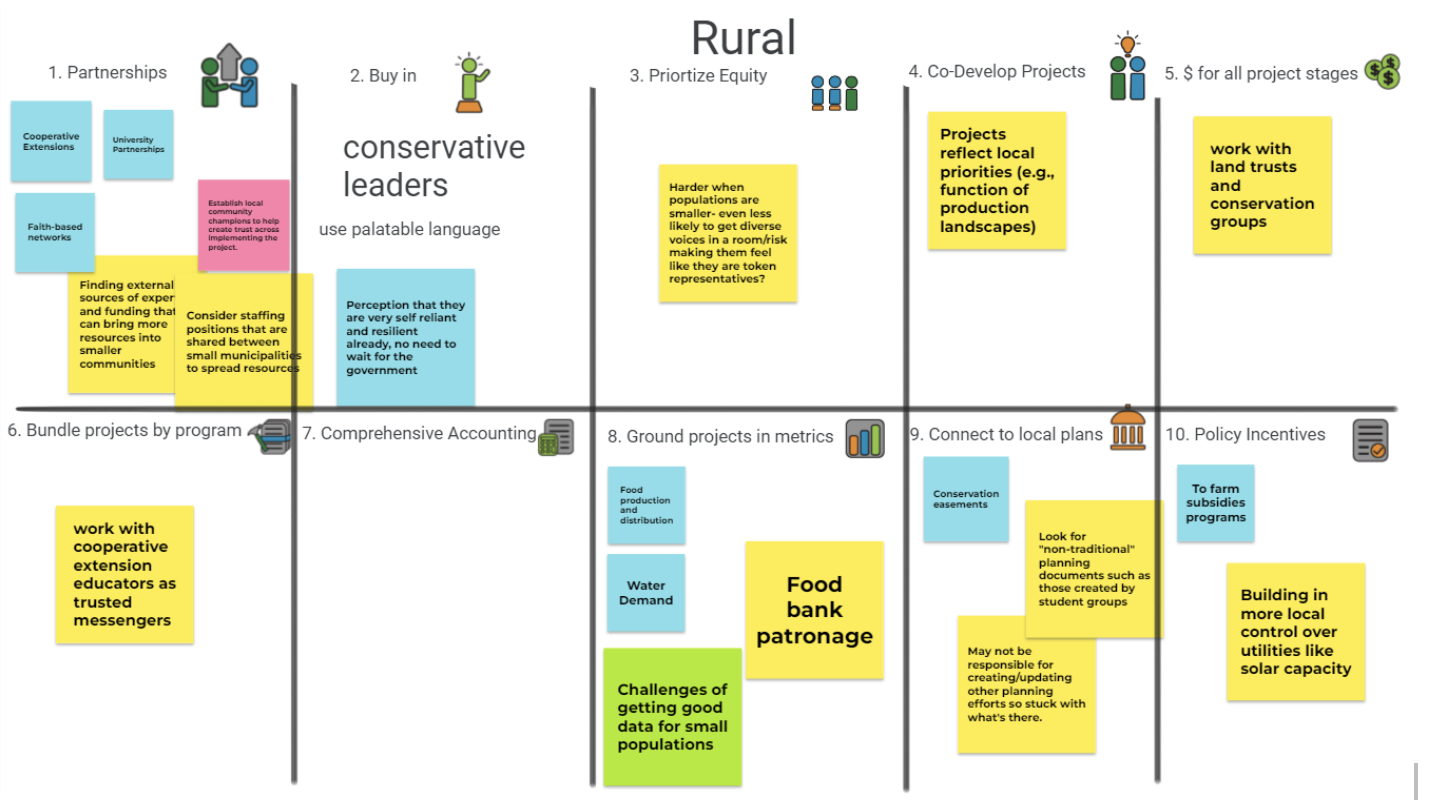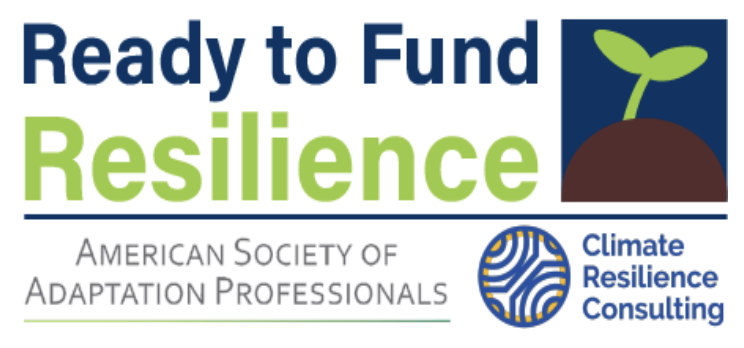 Session 6: Step 5, Take Action
---
During the last session of the pilot training program, participants will explore the necessary steps to implementing a plan, including the many aspects required to maintain momentum for what will be a long term effort.
The session will focus on building capacity and relevant skill sets within local government, long term community engagement and outreach, continuous re-prioritization and the challenges of funding projects and initiatives.
Participants will have the opportunity to learn about a community case study, centered around Charleston, SC, and the city's advancements over the past nine years. In addition, there will be a one-hour session dedicated to introducing formal measurement and evaluation tools and practices to the Climate Adaption field of work.
To learn more about the Steps to Resilience Practitioner's Guide, the training program or its participating practitioners you can click this link.
Updates on the training program can be found on the Resilience Ecosystem Website.